Peeps and bunnies have long been associated with Easter.
But neon colored peeps?
I didn't know about this until I read it in a story in the New York Times this week, but coloring peeps is a normal practice for parts of the U.S. 
I guess Philadelphia has been left out of that bizarre tradition.  
I have never seen a neon colored peep, and quite frankly, the thought of either injecting the incubating egg with dye or spraying a little hackling with dye just makes me shake my head.
But then, people dye poodles pink, right?
The difference is that these cute little colorful peeps go to homes with kids. And soon the novelty wears off, the animals are cast away. Parents then need to find a home for them (and I'm sure a number of them simply get dumped).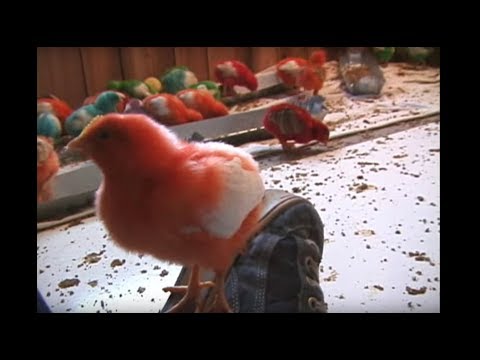 I'm not saying that peeps and chickens aren't wonderful additions to a family – BUT, you just can't lightly enter into adding them to your family.  I couldn't find exact statistics of the "backyard chicken boom" that has hit this country since the economy has taken a turn over the past few years.  The lack of statistics may be due to those who are keeping their new pets "underground" or in violation of local ordinances. Yet Backyardchickens.com – a leading website on raising chickens – boasts more than 127,000 members on its site. I imagine most of those members did not get their start with chickens by adopting neon peeps.
Three things to consider regarding Easter Peeps:
If you want to purchase peeps for your children at Easter, consider instead "renting" them.  A quick search on Google showed me a few places in my area that will rent you a handful of peeps – complete with all supplies – for a few weeks. When your kids are tired of them, YOU RETURN THEM.
If you truly want to keep them as pets, please do your homework first. Peeps turn into chickens, and sometimes there may be a rooster or two (roosters are almost always prohibited in suburban and urban areas). Check your local ordinances and identify what supplies you'll need. Read up on the feed and care (including identifying who will take care of the girls when you are out of town). If you can't care for them properly, DON'T get them.
If you are still not convinced, I recommend you read this blogger's personal story of what happened when she took in neon peeps to raise … in the country.
My recommendation:  if you want multi-colored neon peeps, try the marshmallow kind!