As I watched the evening news tonight, there was yet another horrible and sad story. One of our local teens was tragically killed in an auto accident.  And sadly, according to the early news reports, texting was involved in the accident.
As they showed the smiling senior portrait of the stunningly beautiful young woman, I just cannot imagine what her parents, family and friends are going through right now.
As parents of teen drivers, it's just our worst nightmare.
In this age of needing instant access to information, what can a parent do? The key is to talk to our kids and reinforce the message of the danger of texting and driving. That message can wait. We want you to arrive safe.
If you haven't seen or shared this video with your driving teen yet, you may want to. I will caution you that it's quite graphic (it's a UK video), but it's also very real.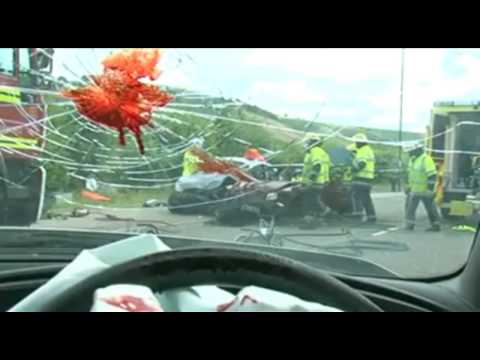 The Statistics
State Farm conducted a survey (using Harris Interactive) surveying the attitudes and driving behaviors of 652 teens, ages 14 to 17 back in February.  The auto insurer previously did this in 2010.
Their findings:
35% of those with drivers licenses strongly agree that if they regularly text and drive they will be killed BUT 57% strongly agree that regularly drinking while driving will be fatal  
63% strongly agree they will get into an accident if they regularly text and drive while 83% strongly agree they will get into an accident if they regularly drink and drive
The Key:  To Talk, Talk, Talk to Our Young Drivers
The survey also showed a sharp decline in interaction between parents and teen drivers after the teen received their driver's license:  
Teens that have a learner's permit are more than twice as likely as those who already have a license to report that they talk very often with their parents about driving: 46% vs. 22%.
The first year after receiving a license brings the highest lifetime crash risk.
One thing the survey discovered is the vital role that parents play in teen texting and driving:
Of the teens who text and drive, 67% talk often with their parents about it.
That increases to 82% among teens who never text while driving.
As pointed out in its press release, insurer State Farm says that "many teens might still be ignoring the message."
"The conversation should not end when teens get their license," says said Chris Mullen, Director of Technology Research at State Farm in the company's press release. "Through this survey and other teen driver research, we know that ongoing parental involvement in the learning process is key to keeping teen drivers safe behind the wheel."
April has been designated as Distracted Driving Month which will bring additional focus to the subject matter. Glee's (FOX) season premiere focuses on a character involved in a distracted driving incident.